The Maritime Authorities of the Tokyo and the Paris Memoranda of Understanding (MoU) on Port State Control will launch a joint Concentrated Inspection Campaign (CIC) on SAFETY OF NAVIGATION. The aim of the CIC is to check compliance with the applicable requirements of the SOLAS Convention, the overall status of the vessel's navigation safety, and the competency of crew involved in navigation operations.
This inspection campaign will be held for three months, commencing from 1 September 2017 and ending 30 November 2017. A ship will only be subject to one inspection under this CIC during the period of the campaign.
Port State Control Officers (PSCOs) will use a list of 12 questions to assure that navigation equipment carried onboard complies with the relevant statutory certificates, the master and navigation officers are qualified and familiar with operation of bridge equipment, especially ECDIS, and that navigation equipment is properly maintained and functioning.
This campaign is also related to standards updates that have been carried by IHO with further implementation by ship owners and ECDIS manufacturers.
One of the good tools for PSC visit preparation may be the ECDIS Familiarisation Recommendations by the Nautical Institute provided in the form of check-list.
During the last years ECDIS has been more commonly used on SOLAS vessels and with the ECDIS Carriage requirement a majority of vessels will be equipped with ECDIS by the end of this decade. The development of ECDIS is an ongoing process based on user needs, technology achievements and need for improvement related to safety of navigation. The need to improve previously adopted ECDIS Standard was also recognized by the IMO «in order to ensure the operational reliability of such equipment and taking into account the technological progress and experience gained» and resulted in a revised performance standard for ECDIS MSC.232(82) adopted in December 2006. In the same way the related IEC test standards, as well as the IHO standards used for production and presentation of Electronic Navigation Charts (ENC) have been revised periodically.
In Oct 2011 the IHO issued the ECDIS Data Presentation and Performance Checks, which included two fictitious ENC cells intended to assist mariners identifying if their ECDIS was using the latest IHO S-52 Presentation Library, edition 3.4. The dataset also highlighted if there were any known ENC display anomalies present in the system. Mariners were asked to run a series of quick tests using the check datasets within their ECDIS to ascertain if they were experiencing display issues. If the system was found to be running an old IHO Presentation Library or had a more serious display anomaly Mariners were advised to contact their ECDIS manufacturer or an appropriate equipment maintenance company to obtain software patches and investigate further to resolve the issues. Results of the tests were to be sent to the IHO for analysis and for use in revising IHO standards.
The IHO ECDIS Data Presentation and Performance Checklist were not intended for, and are not suitable to be used as a Port State Inspection / Carriage compliance test for ECDIS.
To address the display anomalies and improve the ECDIS user experience the IHO issued S-52 Presentation Library edition 4.0 in September 2014.
The IHO has coordinated with the IEC to align the issue dates of S-52 and IEC 61174 "ECDIS Operational and performance requirements, methods of testing and required test results" publications. This resulted in a new edition (4.0) of IEC 61174 being published in Aug 2015. These standard updates affect all new ECDIS systems and new installations from Aug 19th 2015. Current ECDIS users have until Aug 31st 2017 to update their systems to comply with the ECDIS software updating guidance in MSC.1.Circ.1503 "ECDIS – GUIDANCE FOR GOOD PRACTICE".
Changes to the IHO S-52 Presentation Library introduced in edition 4.0 will invalidate the tests contained in IHO ECDIS Data Presentation and Performance Checks which were specifically designed and developed for ECDIS using the IHO S-52 Presentation Library edition 3.4 or earlier.
IEC 61174 ed 4.0 address the following main problems:
- Consistent use of symbols and abbreviations
- Alarm categorization
- Alarm visualization
- Reducing a number of audible alerts
- ECDIS default control settings Route exchange format «RTZ»
Set of new IHO standards address the following main areas:
- New design of Chart object info functionality (Pick report) makes access to ENC chart information easier and understandable for user
- Reorganization of alert management resulting in less alarms being generated by ENC objects
- Crossing navigational hazards (isolated dangers and aids to navigation) as well as areas with special conditions (TSS, anchorage areas, etc.) will generate only visible alarms now
- Safety contours continue to create audible and visible alarms
- Standardized way of making ENC update status report will allow mariners and Port State Control inspectors to confirm that the ENCs installed in an ECDIS are up-to-date
- ECDIS viewing groups extension based on Mariner feedback for detailed control of ENC features
- Chart management and ENC status reports
- ENC test data sets
- Other modifications - new symbols, names of fairways and anchorage areas, highlighting ENC updates, date dependent objects, new chart display layers, and some more
ECDIS and the IHO Presentation Library Edition Number
All ECDIS must have a function to display the edition number of the IHO Presentation Library that is in use within the ECDIS. The new IHO ECDIS Presentation Library edition 4.0 clause 19.1 states: 'The edition number of the PresLib installed must be available to the Mariner on request'. This requirement is tested for in the standard IEC 61174 edition 4 clause 5.5.1 Presentation library (S 52/Annex A, Part I/19.1) 'The edition number of the PresLib installed shall be available to the Mariner on request'.
All Mariners must familiarise themselves with the function in their ECDIS that will display the edition number of the IHO Presentation Library as this varies across ECDIS manufactures. This function will be required when Port State Control officers want evidence that the ECDIS is up-to-date to the latest IHO standards. MSC.1.Circ.1503: 'Additionally, ECDIS software should be kept up to date such that it is capable of displaying up-to-date electronic charts correctly according to the latest version of IHO's chart content and display standards'.
ECDIS Chart 1 and IHO Presentation Library edition 4.0 checks
This is the IHO recommended method for checking that the ECDIS system can display symbols correctly. There is no intention for the IHO to issue a check data set for IHO Presentation 4.0.
ECDIS users can check that their systems are capable of displaying the new symbols introduced in the IHO S-52 Presentation Library edition 4.0 by opening the ECDIS Chart 1 datasets. ECDIS Chart 1 which includes a legend of symbols used in ENC's, should be installed on all type approved ECDIS.
Any anomalies in the display, shall be reported to the ECDIS provider and the IHO at info@iho.int.
More details can be found at www.iho.int
Viewing ECDIS Chart 1, "Information about chart display (A, B)" within the ECDIS will only display the new symbols if the IHO Presentation Library edition 4.0 is installed.
( 1 ) The beacon and buoy features below (approx. position is 15°07.0'N 005°06.5'W) display the date dependent magenta 'd' symbol when the ECDIS date range is set between 01.04.2014 and 27.08.2014.
( 2 ) New indication highlight symbology for objects that pose a danger to the vessel.
( 3 ) Automatic update symbology for identifying where changes to the ENCs have occurred.
It will not be possible to view the new symbols, if the ECDIS software has not been updated to use the S-52 Presentation Library Edition 4.0.
Referring to mentioned above deck officers must know how to check their actual Presentation Library. Usually you can easily find it via so called "PIC report" enquiring ENC cell information. Let's see how it's done by example of two different systems.
IHO Presentation Library check on Transas Navi-Sailor 4000
This can be done in three steps:
( 1 ) Click "I" button on the console
( 2 ) TrackBall RightClick anywhere on the chart
( 3 ) Click "General" in the chart information field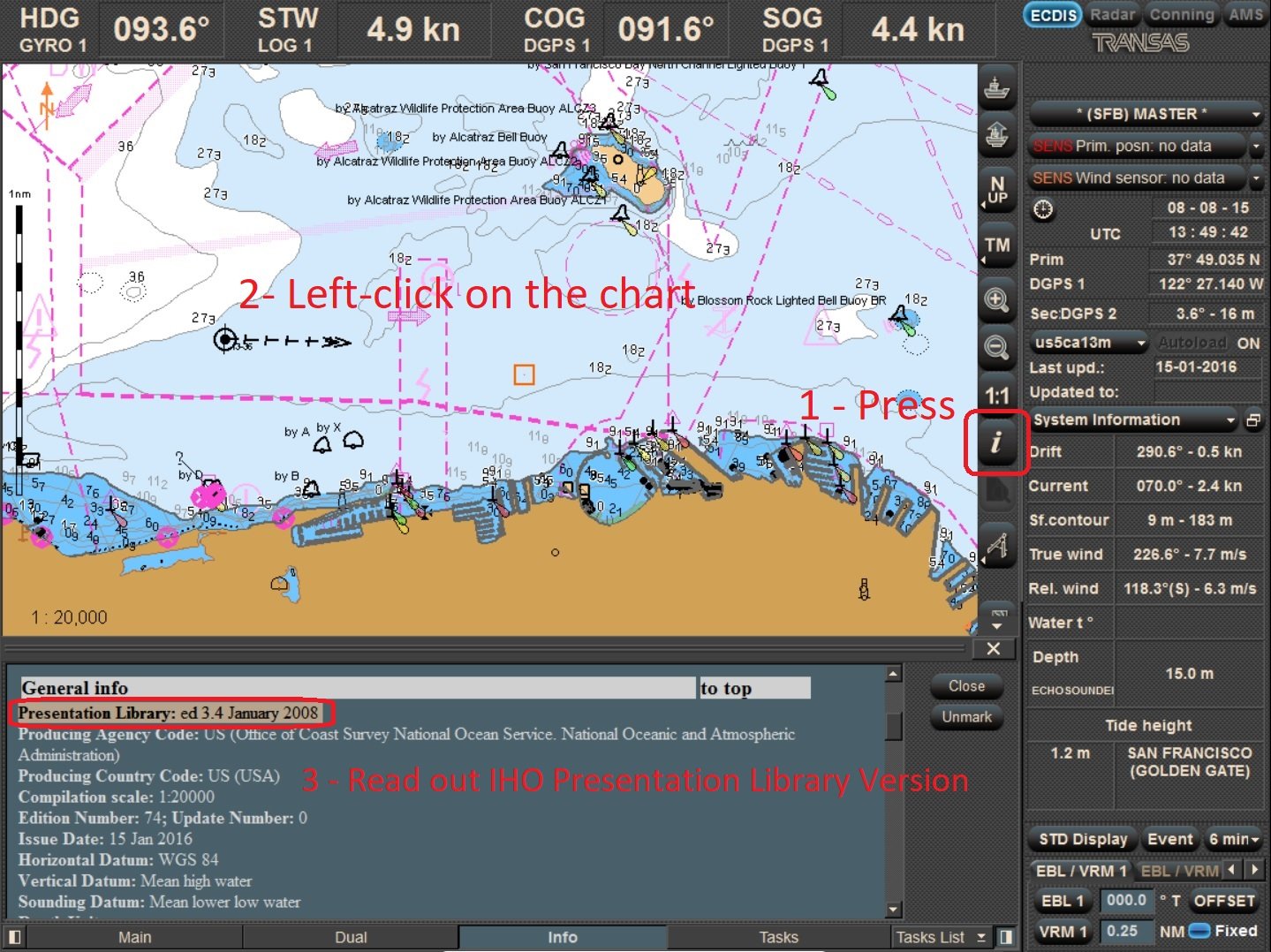 As you can see, this ECDIS still runs with the old Presentation Library ed 3.4 from 2008.
Another tricky moment is that not every ECDIS clearly shows ECDIS chart 1 as it is. ECDIS chart 1 is split in several cells with names starting from "AA". So, if one clicks "Task List" -> "Charts" he will be able to see charts "aa5cab1" and "aa5cab2", which are supposed to be checked as per IHO recommendations. As mentioned above, it is not possible to view the new symbols, as the ECDIS software has not been updated to use the S-52 Presentation Library Edition 4.0
IHO Presentation Library check on Simrad Maris 900
This can also be done in three steps:
( 1 ) TrackBall RightClick anywhere on the chart
( 2 ) Click "Properties" on the context menu
( 3 ) Click "More" in the chart information field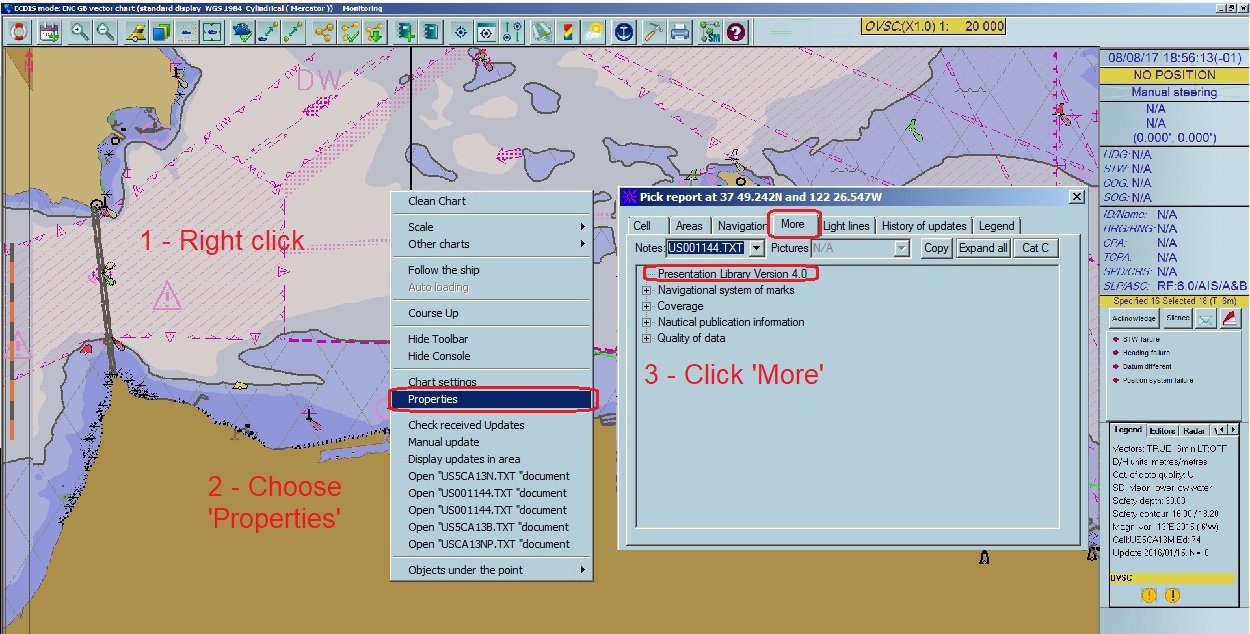 This ECDIS already runs with the new Presentation Library ed 4.0 from 2014. And if you access the Charts Management utility, you will be able to find ECDIS Chart 1 and the same notation for its cells. Checking cells "aa5cab1" and "aa5cab2" will give an exact match with an example given by IHO.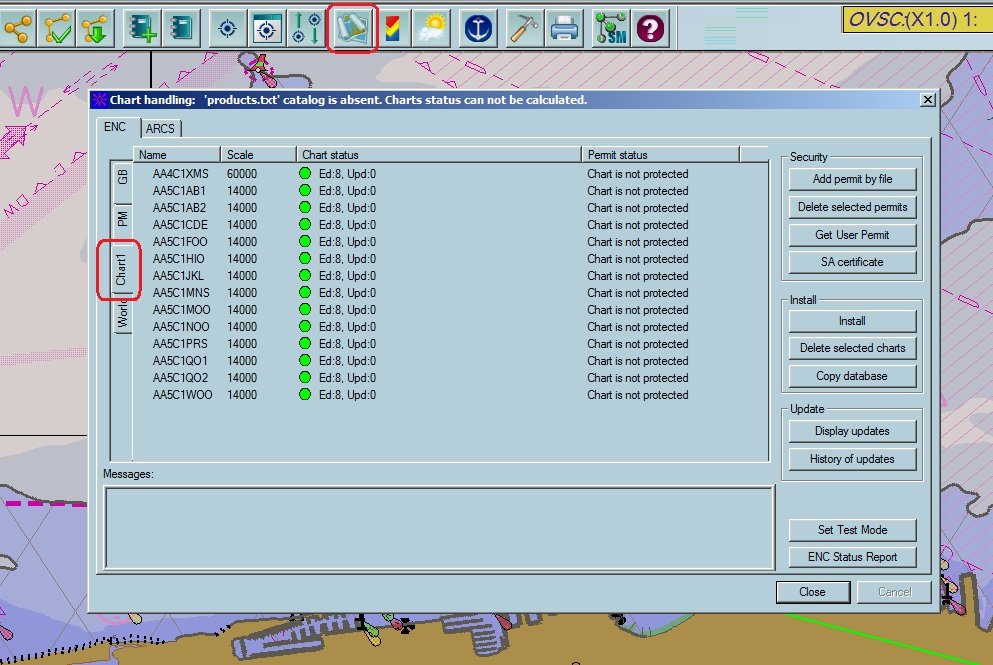 I do hope that this information helped to clarify some concerns regarding ECDIS Presentation Library and corresponding checks and I wish you fair winds, following seas and no deficiencies!